Presentation Sisters offer hope and love to those they minister with in nursing homes, hospitals, hospices, and social services. Whether they are providing hands-on direct care or being a compassionate presence, Sisters provide hospitality to all those they encounter.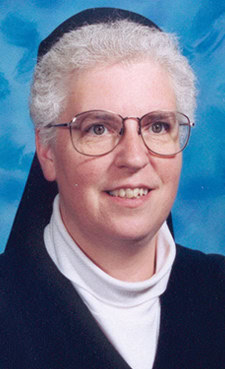 Sister Jane Conrad ministers as a chaplain in a hospital and the largest care center in South Dakota. She previously ministered as a teacher aide and director of religious education for parishes in Hartington, Nebraska. If you arrange for a baseball game, you will see she's quite a slugger. She enjoys attending baseball games of any kind, as well as embroidering tea towels and wall hangings.
Sister Martha Donnelly ministers as chaplain at Mercy Hospital in Cedar Rapids, Iowa. At the hospital and in the community, you will find Sister Martha sharing her Irish charm with everyone she meets.
Sister Pamela Quade of Des Moines, Iowa, former teacher, principal and finance assistant, has acquired her certification as a medical biller. Sister Pam enjoys golfing in the nice weather and reading any time of the year. She is currently employed by Mercy Medical Center as a Lobby Receptionist and volunteers weekly at Mercy Hospice in Johnston and at St. Theresa School.
Reserved in personality and soft spoken in manner, Sister Linda Reicks ministers as a massage therapist in Cedar Rapids, Iowa. On the staff at Carlson College Of Massage Therapy in Anamosa, Sister Linda also teaches massage. Her calming presence and gentle manner enhance her ministry.
Sister Brigid Stanley currently resides in Yankton, South Dakota. Most recently, she ministered as a CNA at Majestic Bluffs, St. James Care Center caring for the elderly and accompanying them in their final stages of life. Sister Brigid takes great pride in ministering in this capacity as it models Nano Nagle's own care for the poor, elderly women and widowed.