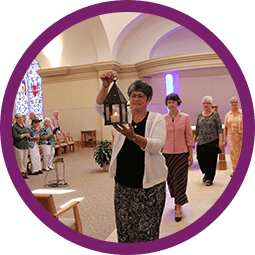 OUR MISSION
We, the Sisters of the Presentation and our associates, dedicate our lives to God through evangelization, prayer, service and hospitality. Our way of life is based on the Gospel of Jesus Christ.
Annual Garage Sale Discontinued
The Sisters of the Presentation are permanently ending the annual spring garage sale. Due to COVID-19, we have been unable to host our sale during 2020 and 2021. For 14 years, many people helped support our garage sale through donations of sale items, baked goods, purchases and time and energy in volunteering.
Our Ministry
Use our interactive map to learn more about our sisters who serve in various ministries in nine states, Washington D.C., and Bolivia
Go to map >