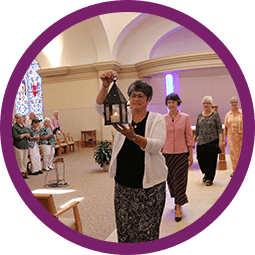 OUR MISSION
We, the Sisters of the Presentation and our associates, dedicate our lives to God through evangelization, prayer, service and hospitality. Our way of life is based on the Gospel of Jesus Christ.
Sister Paula Schwendinger Shares Border Experiences
In mid-June, Sister Paula Schwendinger travelled to Laredo to offer her gifts of fluency in Spanish and a love for immigrants. She met families who had made their way to the border through South and Central America. While she was in Texas, each day she posted some of the stories she heard from families at the center. She documented these experiences in her latest book.
Our Ministry
Use our interactive map to learn more about our sisters who serve in various ministries in nine states, Washington D.C., and Bolivia
Go to map >