The leadership team is responsible for listening to, interpreting and guiding the life of the congregation. In administering to the congregation, the team provides spiritual and material support and corporately witness to the Presentation ministries. The leadership team is elected every five years, with the next election set for 2028.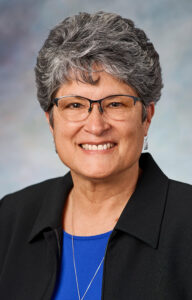 Sister Carmen continues for five more years of leadership. Previously, she initiated and served as executive director of La Luz Hispana in Hampton, Iowa, after having served as Hispanic outreach coordinator of Mercy Medical Center North Iowa in Mason City. She served as a team member of Caminando Juntos with the Aberdeen Presentation Sisters in Sioux Falls, South Dakota. While vocation director for the Dubuque Presentation congregation, she visited Bolivia several times and studied Spanish in Cochabamba. Sister Carmen was an elementary school counselor for the Archdiocese of Dubuque while serving as vocation director for the congregation and as chaplain for the Dubuque Police Department. Prior to that, Sister Carmen was an elementary teacher in Osage, Key West and Dubuque, Iowa.
Sister Rita continues in leadership for five more years. Previously, she served as a mental health counselor with Dubuque Catholic Charities for four years full-time and two years part-time. She was the part-time director of Hispanic ministry for the Archdiocese of Dubuque for two years and continued as the coordinator of Spanish Speakers' Retreats for several more years. From 2009 to 2011, Sister Rita was a missionary in Bolivia. Prior to that, she worked as an in-home family counselor for Mid-Iowa Family Therapy Clinic in Ames, Iowa. Sister Rita served as a missionary in Chupol, Guatemala, from 1990 to 2000. Other positions include high school science teacher in Storm Lake, Iowa, and junior high teacher at St. Columbkille in Dubuque, Iowa.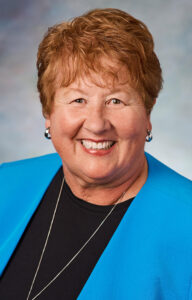 Now serving in congregational leadership, Sister Mary Lou is also a leader in New Orleans, Louisiana, in the nonprofit and civic community as executive director of Hotel Hope, an organization serving the most vulnerable in the community – women with children. Whatever the societal or economic barriers – homelessness, abuse, incarceration, poverty, behavioral health issues, lack of education or jobs – Hotel Hope's programs and services are designed to promote and provide equal opportunities and a path to self-sufficiency in the lives of all women and their families. Her first ministry in New Orleans was as executive director of Café Reconcile, a nonprofit organization committed to interrupting the cycle of generational poverty and violence. Before entering the Dubuque Presentation Sisters, she was a teacher in South Chicago, where she witnessed the Presentation charism. After entering, she served as a youth coordinator, earned a Master of Divinity and served as a director of Catholic campus ministry at the University of Northern Iowa.
Sister Joetta serves in congregational leadership, on the community's initial membership team and with the Sisters of Charity of Nazareth, Kentucky, as director of the Western Province Office of Social and Environmental Justice. After entering the Dubuque Presentation Sisters, Sister Joetta taught in Catholic schools in Iowa and South Chicago, striving to become more inclusive and to share and integrate Catholic social teaching in her classroom. With her graduate degree in cultural anthropology and social transformation, Sister Joetta applies her education to examine and analyze personal, organizational, governmental, religious and cultural systems. She has engaged with coalitions on several levels to enact change. She works with Catholic sisters and their associates to express solidarity with those made poor using education, legislative advocacy, vigils, marches, protests and prayer as catalysts and means.
The Sisters of Presentation are members of the Leadership Conference of Women Religious (LCWR). LCWR is an association of the leaders of Catholic women religious in the United States, representing approximately 49,000 sisters. LCWR assists its members to collaboratively carry out their service of leadership to further the mission of the Gospel in today's world. It works with the Catholic Church to influence systemic change, studies issues within the church and society, and utilizes its corporate voice in solidarity with people who experience any form of violence or oppression.