2023 Jubilee Celebrations
Every year, our community celebrates jubilees, special celebrations designating an anniversary year.
This year, we have sisters celebrating 85 and 60 years of religious life. 
Celebrating 85 Years of Religious Life
Sister Mary Damian O'Brien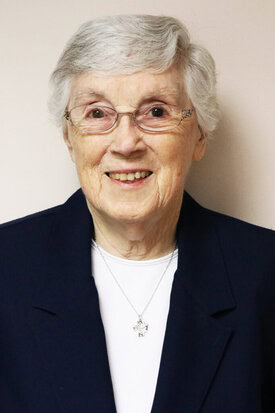 Experience, knowledge and insight, accompanied by the example and teachings of others, shape a person's beliefs and priorities, providing lifelong nourishment for the soul and mind. Sister Damian O'Brien has discovered that wisdom blooms along life's path and becomes more beautiful in time. "Wisdom is so fulfilling. At this time in my life, my special wisdom is acceptance," shares Sister Damian. "This calls me to take time for prayer. I have learned that as experiences come to me I recognize the hand of God was and still is touching my life."  Her prayer and reflection reveal a special face of wisdom, "Gratitude. Always be grateful," she declares.
Sister Damian, originally from Ryan, Iowa, is the daughter of the late Dr. William S. and Mrs. Bernice Tumey O'Brien. Currently of Dubuque, Sister Damian is in service to the mission at Mount Loretto. Up until age 99, she volunteered in the Office of Archives at the Archdiocese of Dubuque.
Sister Damian O'Brien is a life-long learner. For 26 years, Sister Damian taught piano, organ, vocal and instrumental/band music at Catholic elementary schools in Dubuque, Dougherty, Lawler, Osage and Mason City, all in Iowa. She served in congregational leadership, formation and administration for the Presentation community, as well as, a choir director, administrator of a home for retired priest and member of the Dubuque Archdiocese Deacon Formation Team. She also served as pastoral minister at parishes in Charles City and Castle Grove-Coggon-Prairieburg cluster, all in Iowa, and in St. Paul, Minnesota. During her years in parish ministry, Sister Damian accompanied at parish liturgies.
Celebrating this jubilee moment and the meaning of her religious vocation, Sister Damian reflects, "After 85 years as a religious, I think it is the best decision I've ever made. I have always aimed to serve and to be of help to others. I thank the Lord for being so good to me. The life and work of our Presentation foundress, Nano Nagle, is so inspiring and inviting. Nano's service seems so easy despite the hardships she endured; and yet she persevered. She has been a great model for me. And her lantern still lights the way.
A life spent in thoughtful reflection and getting to know God in prayer and through others leads Sister Damian to share a favorite quotation by Richard Rohr, "If you are truly capable of loving one person, you are capable of loving more than one, eventually even your enemy, and finally, all." One could say that these words mirror the many facets of Sister Damian's wisdom.
Send a note of congratulations.
Celebrating 60 Years of Religious Life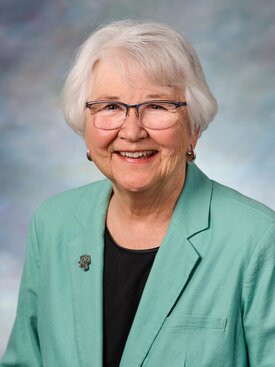 For the past five years, Sister Joy Peterson has served as a member of the congregational leadership team for her Presentation community. Transitioning this year from leadership, Sister Joy now serves as the treasurer for the Sisters of the Presentation. Over the years, Sister Joy has served as promoter of justice, formation director, vocation director and congregational leader for the Presentation congregation. In addition, she was the promoter of peace and justice for the Dominican Sisters of Sinsinawa, Wisconsin, for eight years. She has served on the Board of Directors for the International Presentation Association (IPA) and spent a year working in the IPA NGO office at the United Nations. 
She holds a Bachelor of Arts in English from Clarke College (University); a Master of Elementary Education from Clarke College (University), Dubuque, Iowa:  a Master of Pastoral Studies from Loyola University, Chicago, Illinois; and a Certificate of Theological Studies from the Jesuit School of Theology, Berkeley, California. In addition to her ministries within the community, she was an elementary and secondary teacher at Catholic schools in Iowa, including Elkader, Whittemore and Dubuque. From 1989-1997, she was a pastoral minister at St. Mary Church in Spirit Lake, Iowa.
Sister Joy speaks of her sixty years of life as a Presentation sister, "When I entered the convent in 1963 I was excited for a future of teaching elementary school and being part of the community of women who had nurtured my love of learning. The adventure of these past sixty years has been way more than I could have ever imagined. I have had the sense of being drawn to live community not only with my Presentation sisters but in the whole ecology of creation. God's invitation to religious life has challenged me to listen, to learn and to live in the midst of women who have modelled faithful service to the Gospel and have who encouraged and nudged me along the way of that service. I am so grateful."
Send a note of congratulations.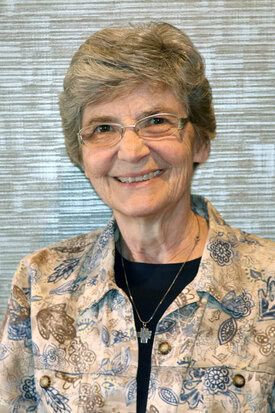 Sister Janet (formerly Juanita) Stelken currently is in service to the mission at Mount Loretto, Sisters of the Presentation, Dubuque, Iowa. Born in Farley, Iowa, and the oldest of 11 children, Sister Janet grew up on a farm and thus has great appreciation for the gifts of nature and the value of hard work. She graduated from Clarke College in 1968 with a major in biology and a minor in education and began a 15-year career of teaching junior high science in Mason City, Sheldon, Algona, and at St. Columbkille in Dubuque, all in Iowa. She then taught in the religion department of Garrigan High School, also in Algona. Through the intervening summers, Sister Janet earned her master's degree in pastoral studies from Loyola University in Chicago, which prepared her well for all of her future ministries, each in varying ways.
Sister Janet accepted elections by the community to serve two terms in community leadership, which spanned from 1998 to 2008. Following her time in leadership, Sister Janet was invited to consider a completely new ministry: pastoral care for seniors at St. Therese Southwest in Hopkins, Minnesota. After six years at St. Therese, Sister Janet was asked to resume the ministry at St. James Parish in Chicago so well established by her predecessor, Sister Barbara Rastatter. Sister Janet visited the elderly in their homes, care centers and retirement homes, praying with the seniors and bringing them Communion. To observe Sister Janet pray and visit with these seniors is to see a woman who herself is a person of prayer, and whose gentle and caring nature makes each senior believe that s/he is the most important person in the world at that moment. Sister Janet truly is an example of going "one pace beyond."
Reflecting on this jubilee, she expresses, "Many blessings come to mind when I reflect on my life as a Presentation Sister over the past 60 years. I feel great gratitude and pride to be a member of this special group of people and have been gifted in so many ways because of it. Since we are, and have always been rather small in number, we know one another and we truly are all sisters! I am so grateful for all the various opportunities with which I have been blessed, a good education, various impactful ministries, and especially the privilege to meet and minister to and with all the good people that I have come to know and love over the years. I know that none of this could have ever been possible without the presence, guidance and direction of our loving God. I am filled with deep gratitude to God who first called and who continues to journey with me through each new day."
Send a note of congratulations.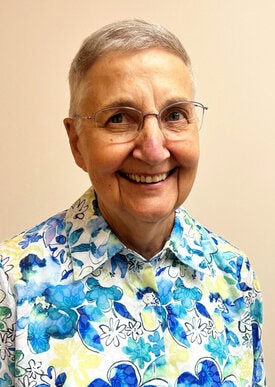 Sister Julia (formerly St. Clare) Wingert currently serves in spiritual directio ministry in Dubuque, Iowa. Her gentle presence and compassionate heart are true gifts she shares with others through her spiritual direction ministry. "There is no greater joy for me than to companion others in coming to know who God is and to recognize God's sweet surprises and many touches of love in their lives. This is gift! This is total delight!" states Sister Julia.
Sister Julia strives to live what she believes by engaging in daily prayer and reflection, practicing good self-care and making choices that contribute to wellness, balance and to holiness and wholeness in body, mind and spirit. In so doing, she can be more open and better attuned to the presence of the Spirit in her life and in the lives of those with whom she journeys.
In December 2021, Sister Julia retired as finance assistant for her Presentation community. Previously she was an elementary and secondary teacher in Catholic schools in Iowa, including in Key West, Storm Lake, Farley, Dubuque, Fort Dodge and Mason City; secretary and assistant treasurer for the Presentation community; and spiritual minister in Dubuque. She holds a Bachelor of Arts in Sociology from Clarke College (University), Dubuque, Iowa; a Master of Arts in Business Education from the University of North Dakota, Grand Forks, North Dakota; and a Master of Arts in Pastoral Ministry from Gonzaga University, Spokane, Washington.
Looking back over the last 60 years, Sister Julia expresses, "Jubilee is a celebration of thanksgiving. I give thanks to God, the Giver of All Gifts, for my life and for my vocation as a Sister of the Presentation. Jubilee is a special occasion to express gratitude to God for my parents and family, Presentation Sisters, friends, co-workers and for all who have, in any way, befriended, supported, inspired or helped to form me along the way.  This jubilee celebrates my heartfelt prayer and song of thanksgiving for God's Spirit, faithful love and presence in my life."
Send a note of congratulations.