We partner because we are better together
The Sisters of the Presentation maintain special relationships with the following ministries. Some of these we have initiated, some we have sponsored and all we support – they are part of our history and mission.
On November 13, 2002, four years of prayer, discernment and hard work by the Sisters of the Presentation came to fruition when the doors to the Presentation Lantern Center opened to the public. Since then, the center's staff and volunteers have listened to the stories of hundreds of new immigrants from across the globe. Presentation Lantern Center is a drop-in center offering hospitality, educational opportunities and advocacy to adult immigrants, especially women, who are striving to better their lives.
On March 27, 2013, La Luz Hispana was initiated by the Sisters of the Presentation in an effort to promote cultural awareness and diversity with hospitality and supportive services for all in Hampton, Iowa. ​La Luz, now La Luz Centro Cultural, is a space where Latinos can share and build their strengths, where social isolation is not a barrier, and where hope and a sense of possibility are fostered. In 2018 the center is now operated by  the Hampton community to serve as a cultural center.
Each year the people of Bolivia suffer from hunger and disease caused by poor living and sanitation conditions. Presentation Sisters Mery Cari Paz and Suzanne Takes minister to Bolivians through coordination of education, housing initiatives and leadership programs. They work to shelter the homeless, heal the sick and empower the weak. In addition, Presentation presence has been devoted to the Guaraní people, empowering them to preserve their culture and language.
Sisters of the Presentation, in collaboration with six Catholic women religious congregations in the Dubuque area, initated Opening Doors, a community service organization which offers women and children who are experiencing homelessness an opportunity to rebuild their lives. Through transitional housing at Maria House and short-term emergency/transitional housing at Teresa Shelter, Opening Doors embodies the values of compassion, respect, affirmation and hospitality.
After Hurricane Katrina, homelessness increased to 70 percent affecting countless families in the New Orleans community. Hotel Hope, a nonprofit, interfaith organization, was established to provide emergency shelter for women with children in need of housing, a safe and loving atmosphere and related supportive services. Hotel Hope offers women and their children an opportunity to reach their full potential, in hope of creating an environment that will benefit the local neighborhood. Presently Presentation Sisters Mary Lou Specha serves as executive director and Julie Marsh as director of operations.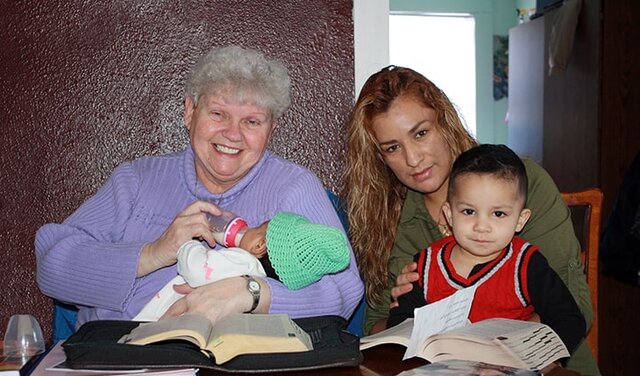 In 2015, Presentation Sister Paula Schwendinger began investigating the needs of immigrants in rural areas of Iowa including Cascade, Dyersville, Farley and Petersburg. Through her observation of the needs, Sister Paula initiated Hispanic Outreach Ministry of Evangelization (HOME). She seeks out individuals of the Hispanic community in their homes and offers them religious and Bible studies, translation and networks Hispanics with community services and resources. Sister Paula has found that HOME is where the heart is.
Lantern Light, Inc. is a collaborative project of the Conference of Presentation Sisters of North America and has been responding to the "cry of those made poor" in New Orleans since September 2005. The ministry reaches out in faith to people who are homeless and those made poor by encouraging, supporting, comforting, assisting and being a compassionate, listening presence to those encountered.
The Sisters of the Presentation also work in collaboration with Presentation people across the world through the International Presentation Association, which is a Non-Governmental Organization (NGO) and has representation at the United Nations. IPA uses this consultative status to influence policies at the United Nations on behalf of people and Earth made poor and advocate for systemic justice in collaboration with other like-minded NGOs and religious organizations at the UN.