We simply could not do the work that we do without our partners in mission. Thank you for sharing your story and supporting the Sisters of the Presentation.
Pete and Jeannie Kalb
Pete and Jeannie Kalb's story dates back to high school. They grew up as friends at Sacred Heart School in Oelwein, Iowa, where they both graduated. Then their life-long commitment began in marriage 58 years ago.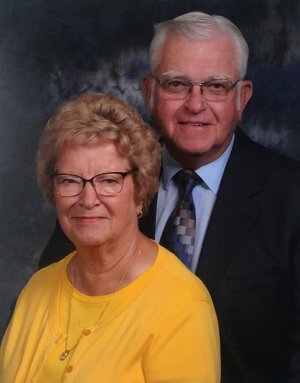 Today, Pete and Jeannie live on the family farm in Stanley, Iowa, located a few miles outside of Oelwein. "We have been blessed with five children; Bob, Mary, Larry, Beth and John, who all attended Sacred Heart. When our youngest started school, I began volunteering. I soon became a financial officer and served at that capacity for 15 years," explains Jeannie.
Pete and Jeannie describe their experiences with the Sisters of the Presentation. "We first became acquainted with Presentation Sisters when our grandchildren attended Sacred Heart. In 1996, Sister Benjamin Duschner became principal. We truly loved her from the start. She did a terrific job as the principal. Later, we were blessed to meet Sister Marilou Irons and Sister Diana Blong. We met Sister Diana at Chautauqua Nursing Home in Charles City where my sister resided. We appreciated her love and compassion. She checked in on my sister often. It was sweet of her. We give thanks to Sister Diana for driving over to Oelwein for my sister's funeral when she died. The sisters are truly blessings and we are fortunate to have them in our lives."
Jeannie reminds us that being present at a time of need is a perfect example of the common good. Pete and Jeannie have given service to their community for close to 60 years. "Pete, too, is dedicated to service outside of making charitable contributions. To date, Pete has more than 50 years as a member of the Knights of Columbus. We both feel it is important to give back."
Following retirement, the couples' support continues. "Common good is what makes the world better for all of us," states Jeannie. "To us, this means if we are blessed we have a duty to share those blessings and try to make life better for others. Sometimes we get so caught up in this crazy world we forget this is what God has commanded us all to do."
"After retiring, I continued my service at a different capacity. I volunteered at Sacred Heart School where our grandchildren were then students. Today we have 17 grandchildren and 10 great-grandchildren. I am grateful for my time at Sacred Heart, as I volunteered until COVID-19 hit. Sadly, the school has closed," says Jeannie sorrowfully. "As for Pete, he has farmed all his life and is still farming with our boys, Bob and John. We are so fortunate to have them farm with us."
As a tribute to the mission and ministries of the sisters, Pete and Jeannie show their appreciation through prayer and as partners in mission. "We see the work being done and make charitable contributions as our way to help others. Pete and I have been so blessed and feel it's our way of thanking God and making someone else's life better. The sisters do a good job at keeping us updated on what they are doing by hearing from our Presentation Sister friends. We always enjoy reading about the sisters and seeing pictures in the Presentation Doorways. We are happy to support the Presentation Sisters as our way of saying "thank you" and hoping to help in our small way for the sisters to continue the wonderful work they do. I challenge all to think about how you contribute to the common good."
Maureen Hobert & Dr. Janine Idziak