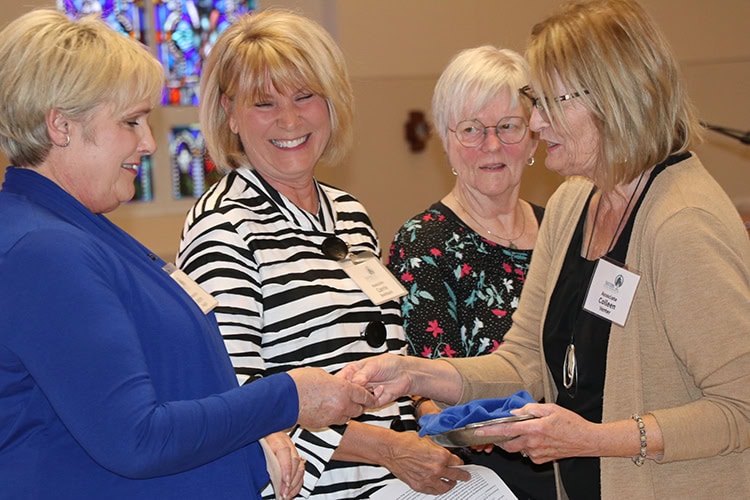 Welcoming New Associates
On May 1, 2023, three new associates were welcomed into the Presentation Associate Partnership in Sacred Heart Chapel at Mount Loretto. Jayne Anglin, Carrie Breitbach and Shirley Lanners have gathered with Associate Partnership co-directors Radie Roberts and Colleen Venter for the past 10 months to pray, study and reflect on Nano Nagle, Presentation heritage, charism and mission. Each month the group welcomed a different sister and associate to introduce them to a variety of Presentation people.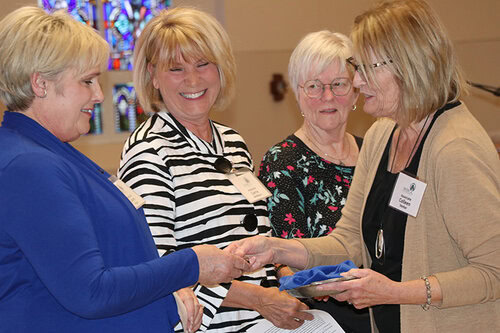 Jayne is a retired dental assistant, part-time instructor at Northeast Iowa Community College in Peosta, Iowa, and volunteers for several organizations. She and her husband Jeff have two children and five grandsons. Jayne shares, "In the discernment process, I experienced such a welcoming sense of connection and realized a much deeper understanding of faith-filled prayerfulness. I look forward to supporting each other while reaching out in the spirit of radical hospitality that the Presentation Sisters live and honor."
Carrie is retired from the Clarke University mail center. She is a master gardener and currently runs a landscaping business with her husband Jeff, when he is not working as a firefighter/paramedic for Dubuque. Carrie and Jeff have been married for 40 years and, together have four children and six grandchildren. They are members of St. Columbkille Parish. Carrie has several family connections to the Presentation Sisters: Sisters Marian Sweeney and Damian O'Brien, and associate Carol Kane. Carrie was also a longtime member of the Theresian Tapestry group led by Sister Francine Quillin. Carrie states, "Over 33 years, I have been a member of the Theresians who met at Mount Loretto. I saw the openness and felt the welcome of the Presentation community. They invited me so lovingly that I felt I belonged."
Shirley and her husband Dan have four children and nine grandchildren. A lifelong Dubuquer, she belongs to St. Anthony Parish. Shirley is retired from McGraw-Hill Publishing and enjoys volunteering at Carnegie Stout Public Library, spending free time with elderly friends, serving them with love and care, doing errands for them and fulfilling a variety of needs. Shirley reflects, "Create in me a clean heart, O God …" to carry the light of Nano, and renew in me a willing spirit to seek justice for those in need. I am drawn to the Presentation Sisters because they are prayerful and fervent in responding to the needs of others in our world."
We welcome and congratulate Jayne, Carrie and Shirley. We are certain our lives will be enriched by the many gifts and excitement they bring to the Associate Partnership!