Rite of Initiation: Mary Therese Krueger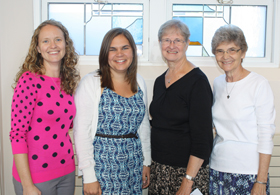 Mary Therese Krueger of Chicago, Illinois was received into the community of the Sisters of the Presentation of Dubuque, Iowa on Saturday, October 3, 2015. With this Rite of Initiation, Mary Therese begins her novitiate journey.
Mary Therese is the third of six daughters of Ann and James Krueger of Villa Park, Illinois. She attended St. Alexander Catholic Grade School and Willowbrook High School. Mary Therese received her BS degree in Exercise Science and Doctorate in Physical Therapy from St. Ambrose University in Davenport, Iowa. Currently, she is a physical therapist at Advocate Christ Medical Center in Oak Lawn, and taking a graduate class at Catholic Theological Union in Hyde Park, both in Illinois. In addition, Mary Therese is on the core team for The Mustard Seed, a young adult ministry group in the Joliet Diocese, participates and assists with various service opportunities and is training for the Chicago Marathon.
"I first became acquainted with the Presentation Sisters through Sister Rita Cameron during college; however I became truly drawn to the Presentations after a service discernment trip to New Orleans. The hospitality, love, and gift of being present to each person they encountered opened my eyes to a new way of service. The ministry the Presentation Sisters are involved in and the relationships they form truly embrace their charism of love and hospitality," states Mary Therese.
"I truly believe God drew me to religious life. The life of service, the love, the joy, and the gift of presence the sisters I have met have, especially the Presentation Sisters, drew me to discern this call to religious life. I am energized to be part of a group of people who live to serve and love God and who commit their life to social justice and to be part of the conversation with people who are helping make the world a more loving place to live."
Mary Therese looks forward to continuing her journey of discernment with the Sisters of the Presentation. "I hope to receive the gift of grace and understanding of the religious life community and the world around us. I'm excited to become a novice with the Presentation Sisters to be able to grow in faith, love, and learn how the community and my life come together and to continue to be gifts to each other."
Caption: Left to right: Sister Mary Therese Krueger (second from left) with her Chicago community, Sister Jessi Beck, Marilyn Breen and Janet Stelken.