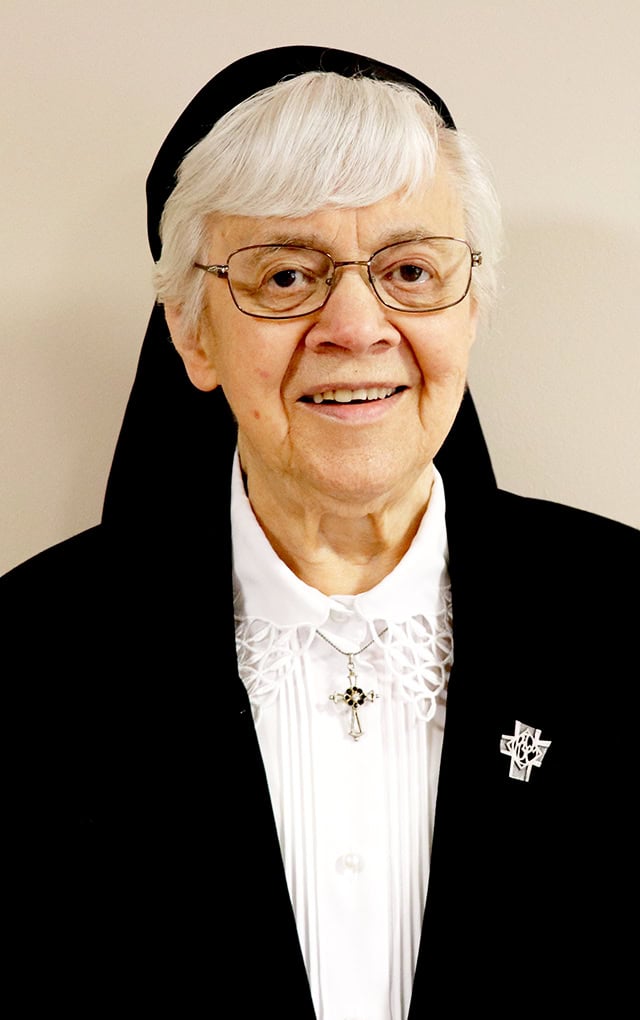 In Memory of Sister Mary Lois Lehmann
January 9, 1926 – October 26, 2023
Sister Mary Lois Lehmann, 97, daughter of Anton and Frances (Honkomp), was born Bernice Catherine Lehmann on January 9, 1926, in Worthington, Iowa.  She entered the Sisters of the Presentation on September 8, 1944, and professed her perpetual vows on May 16, 1950.
She earned a Bachelor of Arts from Loras College in Dubuque, Iowa, and served as a teacher, principal and pastoral minister in Key West, Algona, Storm Lake, Sheldon, Waukon, Bankston, Charles City, Farley, Whittemore, and Dayton, all in Iowa; Timber Lake, South Dakota; and Oak Lawn, Illinois. She retired to Mount Loretto in 2008 and celebrated her 75th Jubilee in 2019. Sister Lois had a special gift for conversation and storytelling and enjoyed traveling, music, games, walking, gardening, baking and art. She valued prayer and community service. Reflecting on her life, Sister Lois said, "I am grateful for my faith, family and Presentation community. I have a deep gratitude for the many people with whom I journeyed over the years. I pray that I helped spread the Gospel message by sowing seeds of love, joy, hospitality, generosity and peace."
Surviving are her sisters, Florence Jaeger and Wilma Hogan; sisters-in-law Margaret Lehmann and JoAnne Lehmann; 27 nieces and nephews, 79 great nieces and nephews and 105 great great nieces and nephews, all of whom she knew by name; and the Sisters of the Presentation with whom she shared her life for 79 years.
She was preceded in death by her parents, her sister, Ruth McMahon, her brothers, John, Clarence, William and Elmer, her sisters-in-law, Verla Lehmann, Marina Lehmann, Anna Mae Lehmann and her brothers-in-law Merlin Jaeger, William Hogan and Joseph McMahon.
Memorials may be made to the Sisters of the Presentation, 2360 Carter Road, Dubuque, Iowa, 52001, or online at www.dbqpbvms.org.