In Memory of Sister Joan Lickteig
January 2, 1929 – August 18, 2021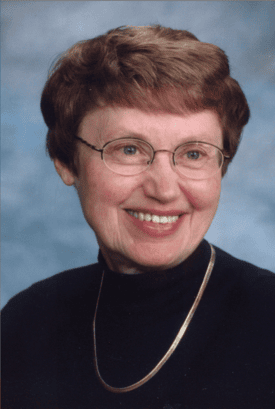 Sister Joan Lickteig arrived on January 2, 1929, the first born of Rose (McMahon) and Ambrose J. Lickteig, baptized "Patricia Ann" by Msgr. Davern at St. Cecelia Parish in Algona, Iowa. She attended St. Benedict elementary school, St. Benedict, Iowa and graduated from St. Cecelia High School, Algona, Iowa. Following high school she left home to enter the Sisters of the Presentation, Dubuque, Iowa in 1949. Sister Joan attended Loras College and earned a Bachelor of Arts from Clarke College, Dubuque, Iowa.
Sister Joan's "claim to fame" is that the entire span of her educational ministry took place In Dubuque. While that's true, a pattern of arriving and leaving, only to return, is manifest in various ministry "assignments." The first assignment in 1952 took her only a few steps from the Presentation Motherhouse (Mount Loretto) to St. Columbkille School. In 1961, in addition to teaching first grade at Resurrection School, Sister Joan served at its first principal. In 1967 she took part in the first Experienced Teacher Fellowship Program, receiving a Master of Arts from Clarke College, after which she returned to Resurrection to serve as principal for another year.
From 1969-1977 Sister Joan worked for the Education Office of the Archdiocese of Dubuque as an education consultant. Then it was back to Clarke College, her alma mater, where she joined the Education Department faculty and taught courses to prepare teachers of reading, first as an assistant, then associate professor before taking a year to complete a Ph.D. at the University of Iowa. Though eager to continue at Clarke with instruction for reading endorsements and Masters programs, her ministry was "interrupted" for four years when Sister Joan was elected congregational leader of the Sisters of the Presentation, serving from 1985-1989. She returned to Clarke where she delighted in teaching until 1998, when she felt the call to a ministry change. Sister Joan happily returned to Resurrection School, where she put reading theory into practice from 1998-2009, serving as literacy coordinator at Resurrection School, assisting both students and teachers.
Invited by community leadership to write "an informal history of the Dubuque Presentation Sisters," Sister Joan researched, wrote and rewrote from 2009-2011, delivering the Dubuque community story, Tending the Light. This was followed by the office book project. According to Sister Joan, her "official retirement" began sometime in 2012. She continued to write reflections for community wake services, lead a faith-sharing group, co-lead an evolutionary awareness group, centering prayer group and participated in a Scripture sharing group. Always dedicated to reading and prayer, she pursued her singular hobby of connecting with family and friends through writing cards and letters.
Sister Joan earned various professional recognitions: recipient of the Meneve Dunham Award for Teaching Excellence while at Clarke College and professor emeritus designation upon leaving Clarke, even the KWWL Gold Star Teacher Award. But the title she most cherished was Sister of the Presentation.
Sister Joan was preceded in death by her parents, her sister Joan Lickteig Elbert and brother-in-law, Paul Elbert, her brother Charlie and sister-in-law, Helen Lickteig, Her brother Ambrose "Tim" Lickteig and her sister Mary Lickteig.
Sister Joan is survived by her brother Donald (and Evelyn) Lickteig, beloved nieces and nephews and Presentation Sisters, associates and friends with whom she shared life.
Memorials may be made to the Sisters of the Presentation, 2360 Carter Road, Dubuque, Iowa, 52001, or online at www.dbqpbvms.org.