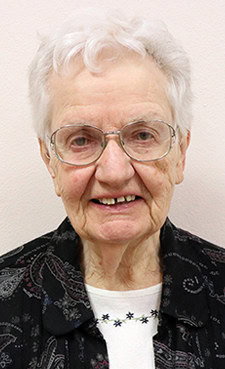 In Memory of Sister James Marie Gross
April 13, 1925 – January 5, 2023
Sister James Marie Gross, 97, daughter of James (Jacob) and Mary (Dynan), was born Mary Evelyn Gross on April 13, 1925, in Rockville, Minnesota. She entered the Sisters of the Presentation from St. Cloud, Minnesota, on September 8, 1949, and professed her perpetual vows on June 19, 1955.
Sister James Marie earned an Associate of Arts from St. Cloud Teachers College in St. Cloud, Minnesota, a Bachelor of Arts from Clarke College (now Clarke University) in Dubuque, Iowa, and a Master of Arts from the University of Notre Dame in South Bend, Indiana. She served as an elementary teacher and principal in Catholic schools in Waukon and Dubuque, Iowa, and was a mathematics professor at Clarke for 34 years. She retired to Mount Loretto in 1999 and celebrated her 60th Jubilee in 2009.
In retirement, Sister James Marie tutored English at the Presentation Lantern Center, coordinated mission materials and tutored math. She enjoyed knitting, crocheting, sewing, quilting, cultivating roses, singing, baking and reading. She valued prayer and community service. "The genuine hospitality, simple lifestyle and commitment to serve the needs of the church are what attracted me to this community," stated Sister James Marie. "Memories of the many people whose lives we touched and, hopefully enriched, bring much joy and gratitude for the many ways community supported our efforts to bring the good news to especially the poor and disadvantaged."
Surviving are her nieces, nephews, and the Sisters of the Presentation with whom she shared her life for 73 years. She was preceded in death by her parents, her sister, Eleanor Donovan and her brothers, John, James, Louis and Daniel.
Memorials may be made to the Sisters of the Presentation, 2360 Carter Road, Dubuque, Iowa, 52001, or online at www.dbqpbvms.org.