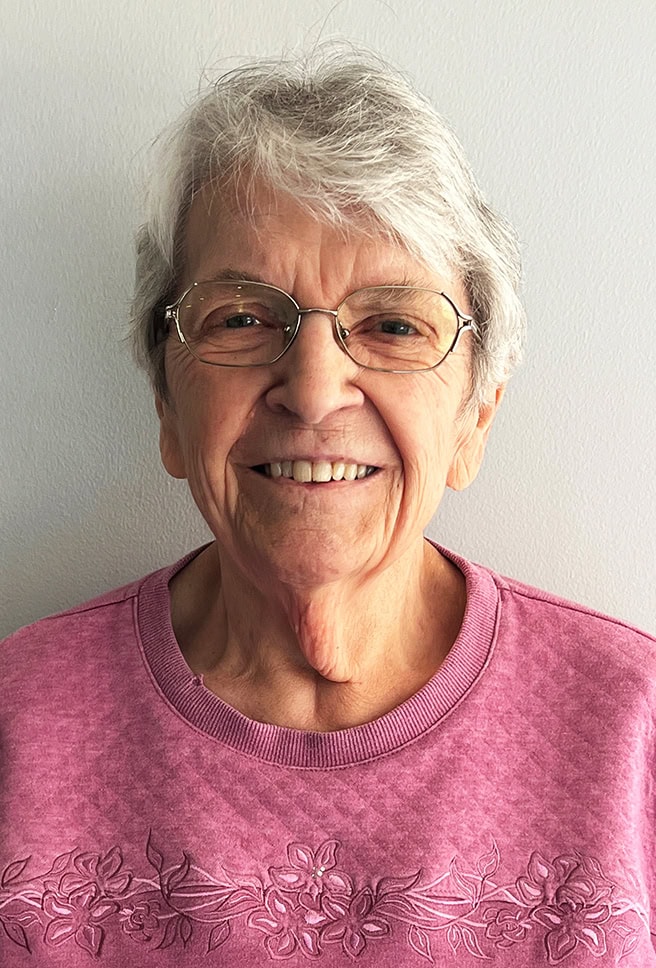 In Memory of Sister Benjamin Duschner
May 6, 1941 – July 28,
 2022
Sister Mary Benjamin Duschner, 81, daughter of Ben and Dorothy (Klaren), was born Grace Margaret Duschner on May 6, 1941, in Farley, Iowa. She entered the Sisters of the Presentation on September 8, 1959, and professed her perpetual vows on August 22, 1967.
She earned a Bachelor of Arts and a Master of Arts from Clarke College (now Clarke University) in Dubuque, Iowa. Sister Benjamin's ministries took her to Winner, South Dakota; Fairbank, Algona, Dubuque, Epworth and Oelwein, all in Iowa; and St. Paul, Minnesota, where she taught and served as a principal and reading specialist. She also served as pastoral minister at St. Elizabeth Pastorate for the parishes of Bankston, Epworth, Farley, Placid and Peosta, all in Iowa. While Sister Benjamin has lived at Mount Loretto for several years, she only left her ministry to the homebound in 2022. She celebrated her 60th Jubilee in 2019. Sister Benjamin enjoyed being with family and friends, taking walks, listening to music and having a good time. Her enthusiasm was contagious, and one couldn't help but enjoy her free spirit and laughter. She valued prayer and community service. "I see the call to live out the life of Nano by incarnating the hospitality of God."
Sister Benjamin once remarked, "God has gifted me with freedom, joy, laughter and an inner happiness that are fuel for my life. Joy is the laughter of my soul. I try to listen and care for others by offering hope and love to those who bear heavy burdens and are in need of a listening ear."
Surviving are her sister and brother-in-law, Dorann and George Simon, her brother and sister-in-law, Gene and Connie, nieces, nephews, and the Sisters of the Presentation with whom she shared her life for 63 years.
She was preceded in death by her parents, nephew Jayme, and niece Brittney.
Memorials may be made to the Sisters of the Presentation, 2360 Carter Road, Dubuque, Iowa, 52001, or online at www.dbqpbvms.org.