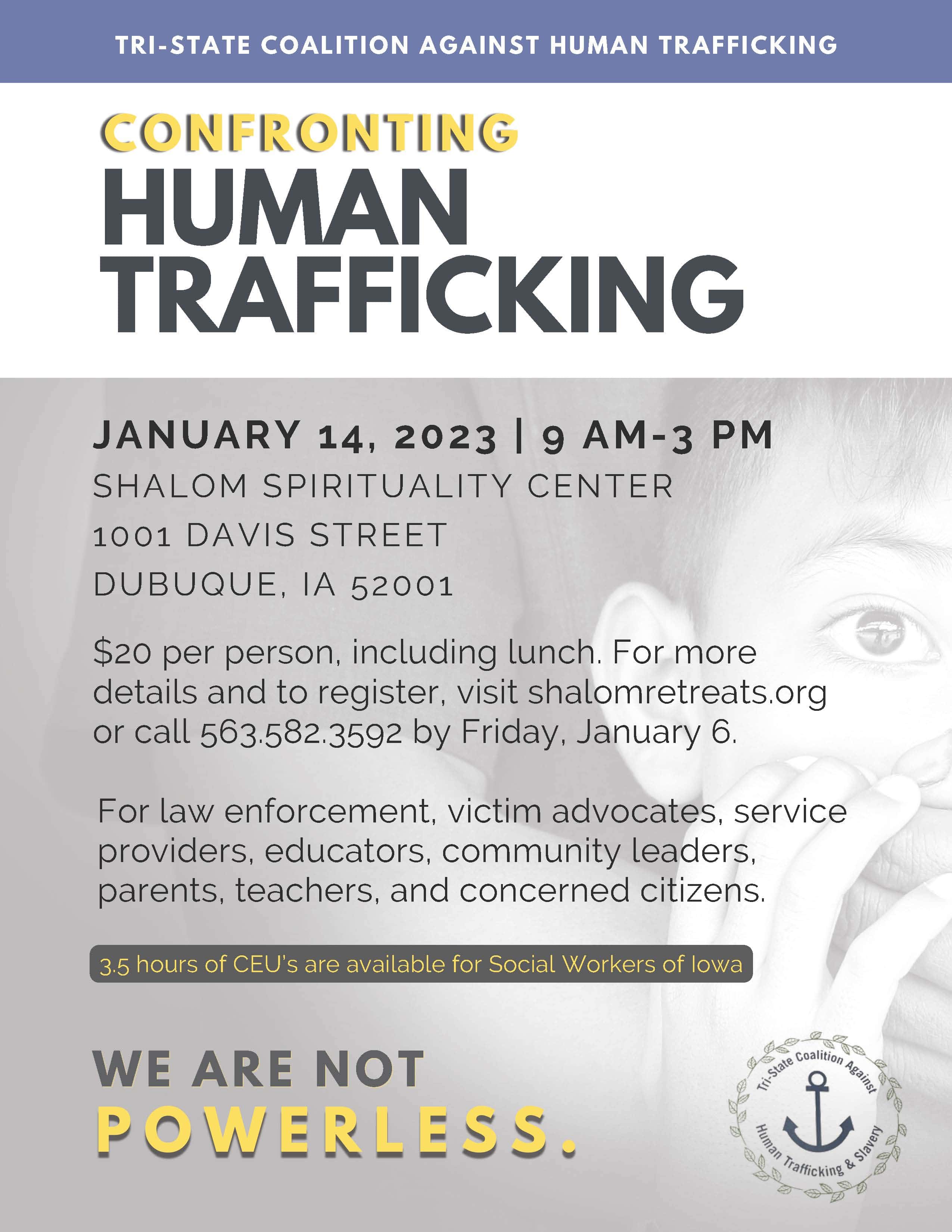 Anti-Trafficking Workshop
January 14, 2023

"Confronting Human Trafficking," a day-long workshop examining the root causes of sex trafficking and providing strategies to stem the tide of this crime, will take place January 14 from 9 a.m.- 3 p.m. at Shalom Spirituality Center in Dubuque.
The program will include sessions on what drives men to purchase sex, the culture of pornography, a survivor's story, and trauma care.
"It's happening here in Dubuque, and at all socio-economic levels," said Deb Albert, planning chair. "It can be your neighbor, someone in your family or at your local school who gets involved in trafficking. We will offer concrete examples of how each person can help end this horrific crime."
"The day will show why sex buyers must be stopped.  We know how to do it," added Casey Klein. "We are not powerless," said Marilou Irons, PBVM. "My hope is that those attending are empowered."
The Tri-State Coalition Against Human Trafficking and Slavery is sponsoring the workshop.  It is designed for educators, community leaders, parents, teachers, law enforcement, victim advocates, service providers and concerned citizens.  3.5 hours of CEUs are available for Social Workers of Iowa.
Cost is $20 per person, including lunch. For more details and to register, visit shalomretreats.org or call 563-582-3592 by Friday, Jan. 6.
Several area service agencies will be present to share their resources.
January is National Human Trafficking Awareness Month.
For additional information, contact: Sister Mira Mosle, BVM, mmosle@bvmsisters.org, 563-581-6043