Advent Discernment Reflection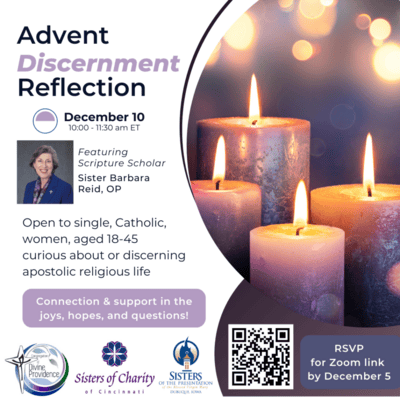 December 10, 2022
9:00 a.m. – 10:30 a.m. Central
Featuring biblical scholar, Sr. Barbara Reid, OP

We hope to create a sacred, encouraging space for discerners to connect with one another in a supportive community. You are not alone in the joys, hopes, anxieties, and questions!
We are thrilled to have Sr. Barbara Reid, OP, joining us to lead a reflection on discernment through the lens of Advent scripture.
The opportunity is open to any single, Catholic woman, ages 18-45, who is curious about apostolic (ministry-based) religious life or in discernment, whether with a specific congregation or not, including those in a pre-novitiate stage.
Location: Zoom (RSVP to receive link: bit.ly/AdventDiscernment2022)
Hosted by Sisters of the Presentation, Sisters of Charity of Cincinnati, Sisters of Divine of Providence
Questions: Contact Sister Jessi Beck vocations@dbqpbvms.org