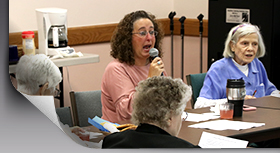 Employment
The Sisters of the Presentation offer a positive, inspirited, growth-oriented work environment reflected in their spirit of hospitality. Our employees experience a nurturing work environment committed to the values of service and hospitality.
The Sisters of the Presentation is an equal opportunity employer with more than 60 staff members serving in various capacities including nursing, maintenance, professional administration, food service, housekeeping and much more.
We offer full-time and part-time positions throughout the year.
We are welcoming applicants for the following positions:

Certified Nursing Assistant
Position(s) Available: Full-Time 3rd Shift (10pm-6am) Every other weekend; every other holiday
As a Certified Nursing Assistant you will provide maintenance and restorative care services in an appropriate, competent, compassionate manner to assist and empower sisters.
In order to assist sisters with daily living, health and wellness, this position requires a positive, caring, relational disposition; an interest in the well-being of others; the ability to organize work, establish priorities and perform tasks accurately, neatly and thoroughly while managing time effectively.
Enjoy one 30-minute paid lunch period which is provided per 8 hour shift, in addition to 2 – 15 minute paid rest periods.
Must have and maintain a valid CNA certification with some long-term care experience preferred. High school diploma or GED required.
Experience with geriatric population helpful.
Administrative Assistant
Position(s) Available: Part-Time
The Administrative Assistant will provide administrative support primarily to the congregational leader and occasionally to the other leadership team members. The administrative assistant performs general office procedures in order to assist the congregational leader and leadership team in completing their work. Works under minimum supervision and acts with a great degree of independence in the resolution of procedural and
administrative problems.
Two to three years of successful administrative work experience required.
Prefer a minimum of one to two years of college education.
Proficient with Microsoft (Outlook, Word, Excel, PowerPoint, Adobe Acrobat), and familiarity with Google applications, internet and online meeting platforms (i.e. zoom, etc.).
Ability to exercise a high level of discretion and independent judgment and maintain a high level of confidentiality.
Excellent organizational, interpersonal and communication skills (both written and oral).
Flexibility and the ability to prioritize tasks are essential.
Some understanding of the Catholic Church and religious life.
Will participate in and contribute to the spirituality of the workplace and the work environment, interacting effectively with others.
This position will be 20 hours/week with a flexible schedule.
Limited benefits eligibility.
Applicants are encouraged to complete the on-line application or a PRINTABLE APPLICATION FORM and mail it to:
Sisters of the Presentation
2360 Carter Road
Dubuque, Iowa 52001
The Sisters of the Presentation are an equal opportunity employer.
Application Form
To apply, please fill out the following application form.