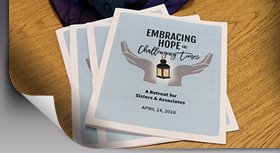 Associate News & Events
Garage Sale Offers Experiences of Card and Generosity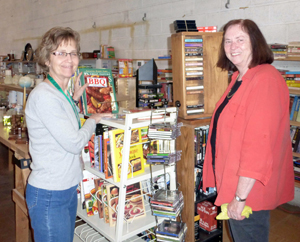 <Return to Living the Mission>
With April came showers and May followed with the flowers. The last weekend in April also brought the annual garage sale and it continued into the first weekend in May. The gently used items, that were donated by so many, were greatly appreciated and definitely supported the mission of sustainability.
It was a time for Sisters and Associates to unite and renew relationships with shoppers from previous years and also to engage in stories with new shoppers.
One young couple purchased several items including a wallet. They left a generous donation for the Sister's Ministries. The next day, in the spirit of continuing generosity, they returned with a one hundred dollar bill which they found in the wallet they had gotten at the garage sale the day before. They gave that one hundred dollar bill as a donation to the garage sale saying that it was not their money and that they could not possibly keep it!
Another couple purchased a lift chair for their 96 year old neighbor. Her previous lift chair was not working anymore. They said Medicare only pays for one lift chair in a lifetime. These very kind neighbors wanted her to have another one so they bought it and delivered it to her.
The "High Fives" were awesome when one volunteer was able to help another shopper fit a full size coffee table in the back seat of a car!!
The extended work force of additional volunteers resulted in another successful garage sale!
Photo: Associates Ann Cooper and Barb Sauser organize the book department at the garage sale.