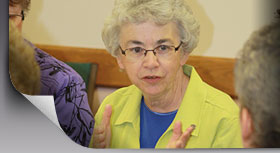 Mother Mary Aloysius Waring
Superior 1898-1901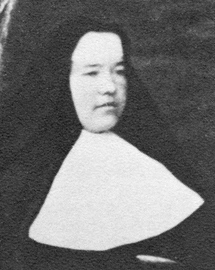 Because of the founding story, most Presentation sisters claim familiarity with the names Mother Patricia and Mother Josephine. But what about Mother Aloysius?
Margaret Waring, a member of the first class of postulants entered in 1877. This first class, numbering seven, had four Dubuque girls, including Margaret. They were, likewise, the first American entrants, all of Irish parentage.
Margaret, received as Sister Mary Aloysius, had been professed only five months when Mother Vincent died. Nevertheless, Bishop Hennessy appointed her as assistant to Mother Patricia, the first leader of the community following Mother Vincent's death. Mother Aloysius served in this capacity for 15 years. When Mother Josephine was elected superior of the congregation, Mother Aloysius, once again, served as assistant.
In 1898, at the time of the second election of a congregational leader, no one was elected after the third ballot, so Archbishop Hennessy appointed Mother Aloysius to lead the community. This fourth superior, having completed her three-year term, contributed a total of 21 consecutive years in community leadership.
Mother Aloysius was known best for her exceptional teaching ability and her excellent educational leadership. Sister Mary Rosalia Plamondon (Annals of the Sisters of the Presentation) states, "Mother Aloysius was a born teacher, a trained teacher and a hard working teacher. All her interests centered around the school and children." In 1879, at the opening of the West Hill school, (later St. Vincent/St. Columbkille), Mother Aloysius became the first "director." She served in this position for 19 years until she was appointed to govern the community.
As the superior of the community, Mother Aloysius erected a school building separate from the convent in 1898. That same year she arranged for the first general retreat for the sisters. It was during her term that the community observed its silver jubilee in 1899. Twelve postulants entered during her three-year term of office, some of whom had been her pupils.
Following her years of community leadership, Mother Aloysius returned to teaching. She was one of five sisters who opened the school in Whittemore, Iowa. A year later she went to Lawler, Iowa, where she was, once again, in charge of the school. She remained there until her death on October 17, 1906, following an illness of only one week.
The shining example of commitment and steadfastness in ministry, modeled in the life of Mother Aloysius, is reminiscent of many Presentation ministers, past and present.