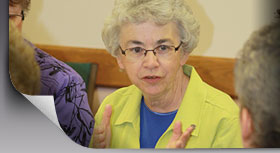 Mother Mary Aquin Walsh
Superior 1922-1931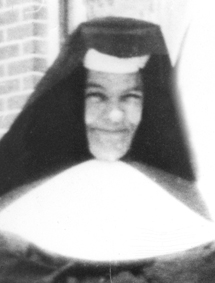 Her winsome picture hangs on the Archives' wall – a bundle of Irish charm exuding from her smile. Mother Aquin Walsh, assistant to Mother Benedict in her last term of office, became the eighth superior of the congregation in 1922. Taught by the Presentation sisters, she entered the community from Waukon, Iowa, one of the earliest Presentation missions.
Annals written by Sister Mary Vivia Cranny describe Mother Aquin as "gentle and retiring," as well as a charming conversationalist. As the first Presentation sister in Iowa to receive a master's degree, she was also perceived as scholarly. She was the first congregational superior to serve a six-year leadership term in keeping with the new Constitutions of 1925.
"Frugality" was the watchword of the day, and a heroic effort was made to pay interest and principal on notes from the previous building of the new Mount Loretto motherhouse. The sale of the St. Vincent property to St. Columbkille Parish in 1930 freed the community from a primary financial burden and responsibility. With the removal of this obligation the Sisters of the Presentation gradually lifted themselves out of a 23-year indebtedness.
During her second term of office, Mother Aquin organized the celebration of the community's golden jubilee (1875-1925). Only a few sisters were absent for the group picture of 132 sisters gathered for the occasion.
In 1930 Mother Aquin celebrated her own silver jubilee, at which time her assistant, Sister Mary Clementina Mackey procured for her a gift: the large picture of the Presentation of Mary in the Temple, a treasured art piece which has always hung in a place of honor at Mount Loretto Convent.
After the completion of her second term Mother Aquin no longer enjoyed good health. She returned to teaching, however, and served at St. Columbkille School in Dubuque and St. Joseph School in Elkader. She retired only a short time before her death in 1948, having given 17 years to leadership, including the last five years of her life, when she again served, this time as a general councilor. She died leaving a legacy of genteel leadership, Irish charm and quiet service.