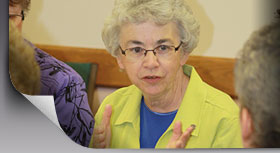 Mother Mary Perpetua Ryan
Superior 1931-1943
Mother Perpetua Ryan, the 10th congregational leader, came from St. Columbkille Parish in Dubuque, Iowa. She seemed to be a "natural" and was assigned early leadership roles, while she was still very young in the community, beginning as local superior in Lawler, Iowa, her first mission.
After her mission experience in Lawler, Mother Perpetua was appointed novice mistress. Only three years later she was elected to lead the community as Mother General. After her first term Mother Perpetua was elected a second time, both six-year terms. Next she was elected for six years to the Office of Vicaress. Following congregational leadership, she was sent to St. Columbkille, her home parish, where she served as superior of the local community and principal of the grade school. Following her six-year term there, she was named principal of St. Patrick School in Monona, Iowa, for another six years. From 1961-1967 she began still another six-year term on the general council. And when she came to Mount Loretto in 1968, she became director of the retired sisters until 1971. Her leadership marathon lasted for 45 consecutive years.
During Mother Perpetua's first term as congregational leader, in 1932, all Irish-born Dubuque Presentation sisters were invited to return to Ireland for the 31st International Eucharistic Congress held in Dublin; for many it was their first and only return to their native land. What a gift in the midst of their family and personal sacrifices.
Mother Perpetua may not have had as much formal education as other community members, but few have rivaled her vision or her concern for the sisters. She invited the voice and participation of the sisters (first Chapter of Affairs) years before it became common practice. In her appointments she looked to the common good, and perceived future needs for education and updating schools, caring for the sick and the exigencies of foreign missions. She arranged for building improvements for the comfort and convenience of the sisters. She appointed the first school and music supervisors and sent the first sister to study nursing. She gave a number of classroom teachers a year or more free to complete studies toward a degree, a previously uncommon practice.
Though she never called attention to herself, Mother Perpetua was a woman of exceptional vision, whose other claim to fame is that she is often considered the most beloved leader in the history of the community. She served generously, when convenient and inconvenient. While 45 years of leadership takes its toll, she neither had nor did she ever expect a sabbatical or a professional leave. With St. Paul (2 Tim. 4:7) she could say, "I have fought the good fight, I have finished the race, I have kept the faith." One extraordinary woman!