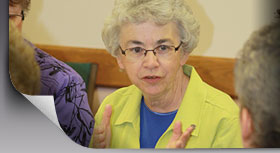 Mother Patricia Reide
Superior 1880-1895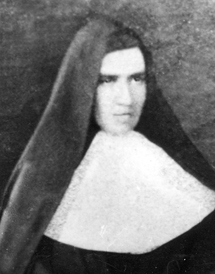 Upon the sudden and unexpected death of Mother Vincent Hennessy, Dubuque Presentation foundress, Bishop Hennessy experienced grave concern for the fledgling community and its grieving members. The 20 sisters who survived Mother Vincent were themselves new religious; only 13 were professed. Even the three original members had experienced less than five years of community living under the direction of Mother Vincent. Within the week Bishop Hennessy, who had invited Mother Vincent and her companions to come to Dubuque, appointed Sister Patricia Reide, niece of Mother Vincent, to lead the community.
Worrisome poverty characterized Mother Patricia's leadership years. Her disquiet was exacerbated by the fact that Nano Nagle had established free schools for the poor, and the Irish rule of the Presentation community forbade acceptance of money from the poor as payment for services from the sisters.
With no means of support, Mother Patricia asked for student tuition. The ability to pay tuition, however, was nearly non-existent, with parents of large families eking out an existence, working in sawmills and lead mines. Music lessons seemed the only solution. After-school and Saturday lessons were compensated with food products, the basic means of survival for the sisters. This dependence of the community on reimbursement from music lessons continued for approximately 90 years, well into the 1970s when contracts assured specific salaries for services of the sisters.
Mother Patricia remained in office for 15 years as directed by the bishop – steadfast and faithful for 15 years of community leadership. This is the steadfastness that has characterized Presentation sisters through the years. Faithful to their calling, they have spent themselves in ministry to those in need. Intent on the words of Mother Patricia, "If it is God's will, it will go on," they trusted Divine Providence to direct and support them. Whether it was food for the sisters or money for the building fund of a new motherhouse, a mission in South America or $5 to initiate a retirement fund, trust in God has provided the guiding light.