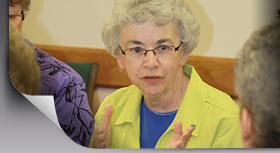 Sister Jennifer Rausch
Congregational Leader 2008-2013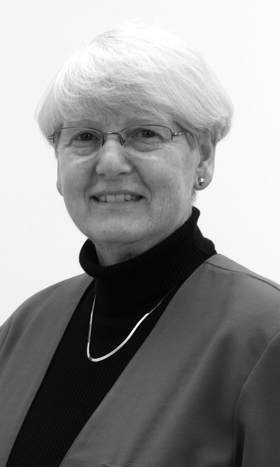 Internalizing and living the directional statement was the emphasis of the community during these years. A highlight of this term was the community-wide participation in the Charism and Spirituality Retreat during the summer of 2012. In addition a number of
sisters made sabbaticals, participated in RUAH, made 30-day retreats and participated in a Sacred Circle, gatherings of small groups to share on a bi-monthly basis. It was also during these years that The Invitation, a process for sisters of retirement age to continue mission, began. Each of these contributed to deepening the interiority of those involved.With her usual cheerful smile and optimistic heart, Sister Jennifer Rausch said "yes" to the call of the community to become the 19th congregational leader. She was joined on the team by Sisters Marge Healy, Beth Driscoll and Leanne Welch. A major focus of this time was to learn and practice a circle process in community gatherings, allowing the voice of each sister to be heard.
Diversity was expanded in a number of ways, especially through participation in the Association of Presentations in Latin America (APLA) in Bolivia in 2010; support of community members serving at the United Nations; participation in the sixth IPA Assembly in Newfoundland in 2012; and the 2013 opening of La Luz Hispana, a center offering educational opportunities and aid in navigating social service agencies to Hispanics in the Hampton, Iowa, area.
Communion centered on the concept of expanding a deeper sense of community in a variety of ways. Among them were Wisdom Circles to involve more sisters in decision-making; the commissioning of the writing of an informal community history; hosting of visitors for the Women and Spirit display; offering expanded heritage sessions to assist Presentation employees in internalizing the mission; including associates in many community events and supporting the concept that there is leadership in everyone. In the hiring of a first lay house coordinator for Mount Loretto, listening sessions were held with those residing at Mount Loretto to determine the needs to be met and the qualities desired in moving forward. It was also at this time that a lay person was hired as the fiscal manager/human resources for the community.
A variety of strategies were used to educate the community and others on the root causes of poverty – learning about and becoming involved in Bridges Out of Poverty, a grass-roots program to reduce poverty; listening to Father Louis Vitale provide information on the use of torture; hosting an opening reception for the Diverse Dubuque video; co-sponsoring the play Farmscape; and re-establishing Nano Nagle's Christmas Eve dinner. The financial crisis of 2008 provided the community with a time to stand in solidarity with the poor and to evaluate their own communal and individual lifestyles.
Much effort went into an emphasis on Earth sustainability: reducing their carbon footprint by 25 percent; forming partnerships with local farmers for food products; participating in a Lenten fast from plastic bags; and initiating the investigation of using solar energy at Mount Loretto.
It was during these five years that the community walked as one through the Apostolic Visitation and began the journey with LCWR's Doctrinal Investigation by the Congregation for the Doctrine of the Faith (CDF), two processes which created strong bonding among religious congregations of women across the United States.
At the completion of the five-year term, Sister Jennifer volunteered to minister for a year at the Nano Nagle Centre in Ballygriffin, Ireland, a living heritage centre located at the birth place of Presentation foundress, Nano Nagle. Sister Jennifer now ministers as pastoral care coordinator at St. Therese Southwest in Hopkins, Minnesota. Sister Marge returned to Entre Ríos, Bolivia to continue missionary work. Sisters Beth and Leanne continue to serve on the present congregational leadership team.