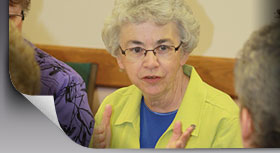 Mother Mary Estelle Pillard
Superior 1955-1967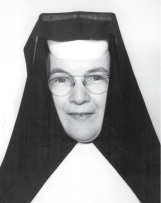 Mother Mary Estelle Pillard graduated from St. Vincent Academy, with graduate work at Loras College and Catholic University in Washington, DC. She was schooled in music, Latin, and business administration, and was adept at multiple sports – her athletic prowess learned from competing with her several older brothers. Going away to study for her master's degree, she proceeded down the front walk at Mount Loretto carrying a suitcase in one hand and a tennis racquet in the other – not the usual Presentation "equipment" for out-of-state study.
Having served one term on the general council, Mother Estelle was chosen Mother General in 1955, the first Dubuque Presentation leader without an Irish surname. She was reelected at the following Chapter for a second term of office.
Descriptors of Mother Estelle include many positive qualities: a woman of quiet splendor, integrity, discipline and propriety. She listened well, assessed wisely and responded quietly. She was gently forthright and conscientious. Concerning all things material, she reserved a light grasp. Prayer marked the early hours of her day, followed by a full day of office work. But at 4:00 p.m., the office closed down, and Mother Estelle went to the front yard during seasonable weather, to dig out dandelions and garner some fresh air and exercise. She walked lightly upon the earth and, likewise trod softly in all interactions. Evening recreation consisted in never-to-be-missed card playing, her favorite being six-handed Canasta. Faithful to each aspect of her day's commitment, hers was a balanced and well-ordered life.
The Chapter that ushered in the leadership of Mother Estelle reigns in the hearts of Presentation sisters because the long-awaited hope for home visits became a reality. For the first time in the history of the community, sisters could now visit their families in their homes. Most community prayers would now be said in English rather than Latin.
From lawn care to garden beginnings, Mother Estelle deserves recognition as the first "green" superior. In 1955 she invited Sister Mary Wilfred Kress to become the community gardener, a position she filled for many years.
At an early juncture in her role as community leader, Mother Estelle offered Sister Helen Marie Feeney $5.00 and instructed her to open a special account. The retirement fund was launched!
Another monumental change took place in the formation program which expanded to include the year-round juniorate, a two-year period of additional professional and religious studies for young sisters preparing for ministry. A hard saying for pastors, lay teachers would now need to be hired by parishes because of the two-year delay in preparation and the need for more sisters in additional ministries.
It was during her time of leadership that a formal community publication, Mount Loretto Bulletin, was begun under the direction of Sister Mary Vivia Cranny. In 2006 the title and format changed to the current Presentation Doorways. The first financial campaign was launched. The more-than-usual changes that occurred were all carried out with composure and tranquility by Mother Estelle.
Presentation Sisters of Oregon, Illinois, began the process of transitioning to join the Dubuque sisters, and in 1963 five Oregon Presentations transferred their vows to the Dubuque community. Larger than usual numbers of postulants entered during this period of time, and Mother Estelle found herself overseeing multiple building changes and improvements. This period of time represented the largest membership totals in the Dubuque Presentation (328 in 1965)
Following her service as community leader, Mother Estelle served 14 years as community treasurer. In her retired years she offered a holy, humble presence, sharing in community prayer and service. She died a month before her 90th birthday in 1990.