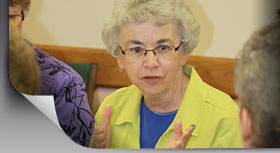 Sister Joy Peterson
Congregational Leader 1998-2008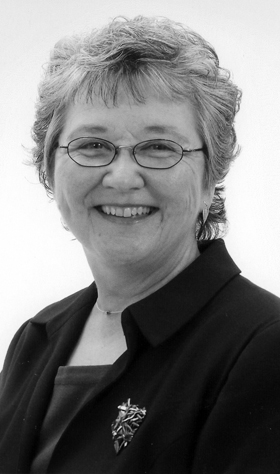 With much enthusiasm, Sister Joy Peterson accepted the role of the 18th congregational leader. Born in Fort Dodge, Iowa, daughter of Dorothy (Kennedy) and Robert Peterson, Joy attended elementary school at Corpus Christi. When the family moved to Mason City, Iowa, she attended Newman High School. Following graduation, Joy entered the community of the Sisters of the Presentation, where she attended Clarke College, earning a bachelor's degree in English and a master's degree in social studies, with an additional master's degree in pastoral studies from Loyola University in Chicago, Illinois.
Attention to world issues and justice concerns, including the needs of women and children, served as a focus for Presentation justice efforts. A variety of meetings, ministries, and messages furthered the education and involvement of community members. Several sisters chose to serve in communities of other cultures, as well as those who continued ministry in Bolivia.
On July 16, 1999, the Dubuque Presentations declared a year of jubilee as they celebrated the community's quasquicentennial (125 years). Since arriving in Dubuque from Mooncoin, Ireland, in 1874, Presentation Sisters had served in 140 locations. The year-long celebration took multiple forms including a Heritage Walk to review early Dubuque travels and travails, a community picture and the opportunity for a pilgrimage to Presentation roots in Ireland. Sixty sisters and four associates took advantage of the invitation to experience walking Nano's winding lanes.
A world need for systemic change brought forth Presentation efforts on many fronts. Worldwide Presentations petitioned for NGO (non-governmental organization) status at the United Nations to further justice and peace on all continents. Sisters in Latin American countries created a Latin American network for justice issues. The North American Conference of Presentation Sisters met to explore avenues of collaborations for justice in the 21st century. Presentation Sisters, along with five other Dubuque women religious orders initiated and financially supported a project to provide emergency transitional housing for women and children in Dubuque.
The newly-renovated Sacred Heart Chapel was dedicated June 21, 2001. Bright, spacious, attractive and inviting, the new chapel provided an ongoing gift to sisters and guests. A special feature was a sky-light lantern, reminiscent of Nano's lantern, positioned directly above the altar, allowing sunlight to flow into the chapel during the day and lighted at night to be seen from nearby streets. An enlarged gathering space, with blessing font and new art glass windows and doors created a serene atmosphere for prayer and solitude.
As membership decreased the community opted for four instead of five council members in 2002. Hospitality toward Earth, women and children and one another focused the congregational direction for Sister Joy's second term. The community endorsed the Earth Charter, an international declaration of fundamental principles for fostering a global society seeking to provide justice and peace for all in light of the ecological needs of the planet.
In 2003, 27 different Presentation congregations, including Dubuque, sent representatives to the fourth International Presentation Association meeting in Australia. In January 2004, the North American Conference of Presentation Sisters celebrated their 50th Jubilee and marked the occasion by conceiving a collaborative ministry project. After discerning possibilities, the group decided on an inner-city neighborhood in New Orleans, Louisiana. Sister Beth Driscoll represented the Dubuque Presentations for the first three years of ministry at Lantern Light, Inc.
In 2006 over 400 North American Presentation Sisters and associates gathered at St. Thomas University in St. Paul, Minnesota, for a Presentation Convergence, a time to share the past heritage, celebrate the present and create the future.
The following year Sister Joy traveled to Rome for the assembly of the Union of International Superiors General, meeting with 850 other women religious from around the world. The task of the assembly was to hear the cries of those made poor, and to find common ways to address those cries.
Following her time in leadership, Sister Joy was chosen to serve as an assistant in the International Presentation Association's NGO office at the United Nations. Upon her return, Sister Joy was hired as promoter of peace and justice for the Dominican Sisters of Sinsinawa, Wisconsin, where she continues her service to the present.