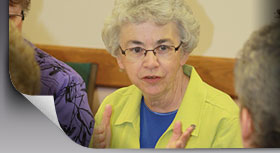 Mother Mary Columba O'Callaghan
Superior 1913-1916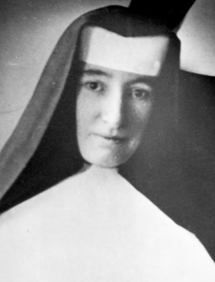 Bridget, the fourth daughter of William and Mary (Hennessy) O'Callaghan identified her vocation to become a foreign missionary in her early teens. While discerning, Bridget visited her sister in New York, and met Father Fogarty, who told of the missionary work of the Presentation sisters in his Dubuque parish, St. Columbkille. A short time later, 19-year-old Bridget left her Irish homeland and her loving family, traveled to Dubuque – and stayed, never to return to her home country.
Sister Columba, a competent teacher with artistic training and a flexible and willing heart, filled any number of unexpected vacancies upon short notice. After she had responded to many such requests, one witty sister fondly named her "the traveling ambassador."
When in charge of the novices, it is told, she frequently put her large sleeves over her mouth to conceal a smile at the faults/concerns they reported and then responded in her usual gracious matter. Sisters interviewed many years later recalled, with fondness and affection, their novitiate days under Mother Columba's guidance.
Teaching, taking charge on local missions, three times elected mistress of novices and once as mother assistant, Mother Columba was no stranger to leadership and its responsibilities when she was elected the seventh Presentation mother superior. While willing to accept whatever God asked of her in community, she perceived the role of community superior as onerous, contrary to her genteel nature and meek manner. Her preference was to reflect the light, rather than be "center stage." Nonetheless, she fulfilled her responsibilities with resignation.
Previous to 1914, the sisters had left their convents only to go to and from their missions. Education of the sisters had always been provided at the motherhouse. But when an extension of the Catholic University came to Columbia College (now Loras College) in 1914, Mother Columba thought the sisters should avail themselves of the opportunity to attend classes there. Contrary to the prevailing enclosure, this difficult and defining decision was met with resistance from the community. Listening to the advice of the archbishop and her council, Mother Columba authorized sisters, for the first time, to leave the convent for educational purposes, an innovative decision that built upon previous education efforts and continued the strong educational emphasis that characterized the community.
While there was more than one difficult decision that Mother Columba had to make, she maintained her characteristic personality and was described in Sister Mary Rosalia Plamondon's Annals as "kind, simple, pleasant…and gentle as a dove." Looking back on Mother Columba's service as congregational leader, the examples make it apparent that she sought reasonable solutions and responded to the current needs.