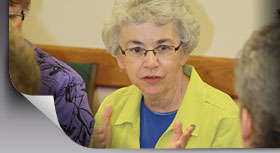 Mother Benedict Murphy
Superior 1907-1913/1916-1919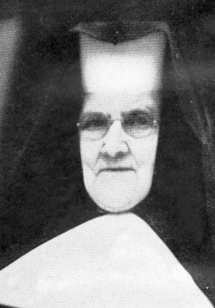 Entering at St. Vincent's convent in 1886 from the New Melleray Parish, outside Dubuque, Mother Benedict taught music for 18 years after her profession. Although Mother Benedict was the sixth superior of the community, she had entered only 12 years after the original foundation, affording her close ties with the early founders. She knew every community member except four: Mother Vincent Hennessy and three young sisters who died before her entrance.
Four months after her election, Mother Benedict emptied the community treasury to purchase land for a much-needed new motherhouse. Unable to afford an architect, she directed much of the construction. The new building, home to the Presentation sisters for 30 years, was dedicated only one year and three months following the ground breaking. The dedication sermon was delivered from the rostrum of the balcony on second floor, over the main entrance of the building.
Saddled with a total loan of $40,000 plus interest and with all their property mortgaged, the Presentation sisters were poor. Community membership was small, and the 11 schools brought in minimal salaries. The sisters relied on "in-kind" gifts, primarily food. Credit goes to the music teachers for their efforts to increase funds.
For Mother Benedict one monumental task was soon followed by a second: the revision of the Irish Presentation Rule to meet the needs of American communities. During her last two terms, she completed the revision of the constitution and sent it to Rome for final approval. Mother Benedict opened seven new schools, including schools in Nebraska, Colorado and South Dakota, and Iowa.
Mother Benedict was not eligible for re-election after serving two consecutive terms. After Mother Columba's three-year term of office, however, Mother Benedict was again elected for two more terms as congregational leader. She is the only Presentation sister who was elected to four terms as superioress.
Death came many times from 1918-1921, including the deaths of the three Iowa foundresses. In one seven-month period, several of the most experienced and active community members died. At the conclusion of Mother Benedict's fourth term, 33 community members rested in Mount Olivet Cemetery. It seemed a high number for a 40-year old community of young women.
Presentation sisters owe much of their progress to the initiative, energy and persistence of Mother Benedict. Her willingness and zeal in confronting difficulties earned the respect and gratitude of the sisters. Upon completion of her 12 years of leadership duties and three years of service as elected bursar, Mother Benedict once more joined the teaching roster. A final contribution was the writing of the community annals through its 75th anniversary, which she completed in 1949 at the age of 83. Free of duties for six years, she died in 1955 at age 89.