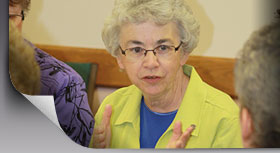 Sister Mary Jeanine Kuhn
Superior 1984-1985
Having served for two terms as vicaress (assistant to the congregational leader) on the community leadership team, Sister Jeanine Kuhn was called to complete Sister Martin McCormick's term after her death. Sister Jeanine was the second Presentation vicaress to complete the term of a major superior who died in office; Sister Presentation Griffin completed the term of Mother Angela Crowley in 1906. When Mother Vincent Hennessy died unexpectedly, Bishop Hennessy appointed Mother Patricia Reidy as head of the young community; no vicaress had previously been named.
Sister Jeanine (Margaret), daughter of Sylvester and Elizabeth (Sullivan) Kuhn, was born in Osage, Iowa, and attended school there. A lively, spontaneous and congenial young woman, Margaret entered the Presentation community and attended Clarke College for her undergraduate degree. Later she received a master's degree in guidance and counseling from Loras College and in 1992 a master's in Christian Spirituality from Creighton University.

Teaching assignments took Sister Jeanine to St. Columbkille School, Dubuque, and St. Odilia School, St. Paul, Minnesota. Her next assignment was that of principal at St. Joseph School in Farley, Iowa. From 1969-1985 Sister served in a variety of community leadership roles: vocation director, novice director, formation team member, vicaress/first councilor, spiritual growth director and major superior for seven months.

Sister Jeanine's sunny personality, positive outlook and personal zeal suited her well for each of her community assignments. Along with others in leadership, she orchestrated a multitude of spiritual enrichment opportunities, varied retreat designs, summer houses of prayer and summers of spiritual renewal.

Following one of her dreams, Sister Jeanine renovated a cluttered, dusty loft of unused space above the maintenance shop to create a simple rustic refuge, a kind of "upper room." She called it the Poustinia, a Russian term referring to a small, sparsely-furnished room where one goes to seek God's presence in silence, solitude and prayer. The response of the sisters confirmed that it was well-named, well-designed and well-used. In due time it fell into disrepair and disuse, but the concept remains alive in new dreams expressed by the sisters in their Caritas meetings.

Following her 15 years in various leadership roles, Sister Jeanine engaged in pastoral work at Immaculate Conception Parish in Charles City, Iowa, and then served for 15 years (1997-2012) as administrator of American Martyrs Retreat House, the archdiocesan retreat center in Cedar Falls, Iowa. In 2004, she was honored by the Archdiocese of Dubuque with the Pro Ecclesia et Pontifice medal, a papal honor given for outstanding service to the church and the pontiff.

Currently Sister Jeanine ministers as a spiritual director in the Cedar Falls/Waterloo area, works in the peer-ministry program at St. Stephen the Witness Catholic Student Center on the UNI campus and is a hospice volunteer.