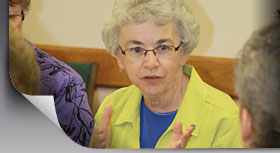 Mother Mary Camilla Keefe
Superior 1943-1955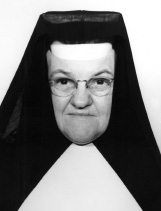 Mother Mary Camilla Keefe, the 10th mother general of the Sisters of the Presentation, was born in Galva, Iowa. Presentation sisters had taught in the Sioux City Diocese since 1887 (Danbury), but Mother Camilla was the first congregational leader from the Sioux City Diocese.
Mother Mary Camilla taught at St. Vincent Academy, Dubuque, and in high schools at Clare and Farley, Iowa. The last sister to be elected as mistress of novices, she was the first superior to appoint a formation leader. After 12 years as novice mistress, Mother Camilla was elected mother general of the community. Though her personality was starkly different from that of her predecessor, Mother Perpetua, she was an effective financial manager, an efficient administrator and a community innovator.
In 1946 she established a building fund and supported it with a car raffle, donations, savings, interest and borrowed money. The amount of money needed for a new addition to the motherhouse was $500,000 – at a time when elementary classroom teachers received a monthly salary of $35 and high school teachers earned $45. The new building was dedicated in 1952.
Changes: While formerly the mother general acted as local superior of the motherhouse, Mother Camilla appointed the first house superior for the Mount Loretto complex in her first year in office. Sisters traveled for the first time to far-away Eufala, Alabama, to teach summer religion classes. School staffings were exchanged in 1950 among the Presentation sisters, the Clinton Franciscans, and the Sisters of Mercy in Storm Lake, Danbury, and Charles City; a catechetical school opened in Osage, Iowa.
A quiet innovator, Mother Camilla invited the mothers general from the other North American Presentation convents to meet at Mount Loretto in 1953 to continue the discussion of some kind of unification among them. This informal association spawned The Federation of Presentation Sisters, later to be known as the North American Conference and still later The Conference. In 1953 Mother Camilla inaugurated the summer juniorate program for the continued training of young religious.
For a number of years Presentation sisters attended courses at Mount St. Francis motherhouse affiliated with Loras College; they did their student teaching at the Franciscan's Holy Trinity grade school. In 1950 the Franciscan sisters withdrew from their affiliation with Loras College and joined with their community-staffed Briar Cliff College in Sioux City, Iowa. Presentation sisters, preparing for teaching, would now take their course work at Clarke College (presently Clarke University) and do their student teaching in the Presentation-staffed schools in Dubuque.
Mother Camilla's reelection in 1949 occurred during summer Chapter meetings. This particular Chapter produced multiple decision regarding minute concerns – 62 new rules, regulations and restrictions. It appeared that the multiple advancements and visionary changes that had marked Mother Camilla's years of leadership would now be overshadowed by the strictures, structures and stipulations of this six-year period. Fortunately, the historical focus of visions and dreams, mission and ministry were overriding and provided a more authentic community direction.
Upon completion of her 24 years of leadership, Mother Camilla returned to teaching until her retirement in 1963. After eight years of retirement she died in 1971, the last of her family to receive her heavenly reward. Her beloved nephew Reverend Robert Keefe of Fort Dodge concelebrated her funeral Mass with Archbishop James J. Byrne of Dubuque.