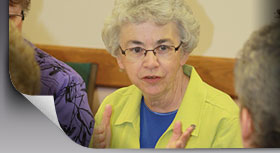 Sister Helen Marie Feeney
Superior 1967-1977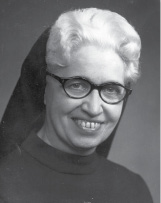 Following in the footsteps of her colleague and friend, the reserved and demure Mother Estelle Pillard, Sister Helen Marie Feeney was elected to lead the community at the age of 41.
Energetic, enthusiastic, and devoutly religious, Sister Helen Marie loved life, her vocation, teaching, community, family and administration – whatever she did. Her outgoing personality and spirit of joy attracted others. A considerable number of students followed her to religious life. Wherever she went, her charisma assisted her in doing God's work with apparent ease.
Facing varied perceptions of religious life after Vatican Council II, Sister Helen Marie led the congregation through challenging times. Unrest and uncertainty, mistrust and insecurity were signs of the times. It was a season of challenges and changes and more changes. There were changes in ceremonies, rituals, rules and regulations, titles and attire and names. There were changes in philosophy and practices, in local leadership, in housekeeping and ministries, including school closings. It was the age of service programs, school consolidations and interparochial high schools. Home visits were extended to two weeks, and the Chapter directed the establishment of a community archives under the able direction of Sister Mary Vivia Cranny.
In keeping with the call of the Church and of Vatican II to share resources/personnel of religious communities, Sister Helen Marie and the Council chose Bolivia, the poorest country in South America, as a foreign mission site. Sisters Ileen Marie Sweeney and Maura McCarthy became the first Dubuque Presentation foreign missionaries.
Then even the motherhouse address changed. The Sisters of the Presentation moved from their 60-year-old address of 1229 Mount Loretta Avenue to 2360 Carter Road when they purchased the St. Bernard Seminary building. Nine months later the former motherhouse was purchased by the Dubuque Archdiocese to be used as the archdiocesan center.
Born in 1920, Helen Marie Feeney joined the Sisters of the Presentation after completing high school, coming from Lawler, Iowa. She earned degrees at Loras College in Dubuque and at Catholic University in Washington, D.C. She received honorary doctorates from Clarke College in Dubuque and from St. Mary University in Winona, Minnesota, as well as the Distinguished Alumni Award from Loras College. Sundry commissions, associations, boards and councils profited from her membership and her leadership.
The community recognizes Sister Helen Marie as the one who, by way of her natural talent, as well as her association with the Christian Brothers Investment Services, established a solid fiscal foundation for the Sisters of the Presentation. Although a business teacher, Sister's specific interest in finance became firmly rooted at the time she assisted Mother Estelle (1961-1967), also skilled in financial matters. Together these financial visionaries started a community retirement fund with a mere $5.00. For 20 years, in her post-congregational leadership years, Sister Helen Marie worked with various religious congregations, assisting them with financial planning.
In 1989, Sister completed 15 years of service on the Loras College Board of Regents, retiring in 1997. This amazing global woman shook hands with two popes, and gave formal presentations from the United States to Newfoundland to Rome to Puerto Rico. Energetic leadership characterized Sister Helen Marie's active years. She loved life and lived it to the fullest. In her later years, she maintained her continued interest in community and inspired others by her stalwart faith and patience in suffering. Her retirement years were marked by ill health until her death on February 23, 2002.