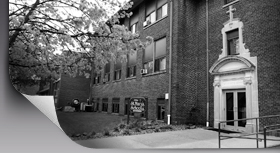 Remembering Storm Lake
Presentation Presence from 1950-2009
"We are grateful for the long and faithful service of the Sisters of the Presentation to St. Mary Parish and School. They touched many lives both by their direct involvement with our children in the classroom, and by their witness as women committed to religious life." (Reverend Bruce Lawler Black and White newsletter, summer 2009) This comment expressed the sentiments of many as the last two Presentation Sisters prepared to leave Storm Lake, thus ending 59 years of service in the school and parish.
St. Mary School in Storm Lake was established and ably staffed by the Franciscan Sisters from Clinton in 1912, while the Presentation Sisters had been in charge of the school in Danbury, Iowa, since 1887. Correspondence between Mother Mary Camilla Keefe and the Most Reverend Bishop Joseph Mueller in 1950 indicated that a trade was to be effected, moving the Presentation Sisters to Storm Lake and the Franciscan Sisters to Danbury.
Arriving in Storm Lake in August of 1950, the following sisters began their work in a new setting: Sisters Mary John McGeough, Joseph Kennedy, Modesta Elbert, Daniel O'Brien, Agnita Healy, Ethel Paulus, Victoria Gereau, Ignatius Cunningham, William Allen and Sheila Kane. In October the furnace in the convent exploded, necessitating a move to what had been the former sisters' quarters in the school. A joyful group returned to their refurbished home in December.
St. Mary was the only Catholic school in Buena Vista County. Parents were very education-minded, perhaps because of the presence of Buena Vista College in town, and expectations for good quality education were evident. Two out of three graduates went on for higher education. Enrollment increased from 200 students in 1950 to 371 in 1957.
A new brick school building housing grades 1-12 had been built in 1927, and the high school was accredited by the state of Iowa in 1938. As enrollment increased, at times the first grade occupied a house nearby. The need for more space resulted in the construction of a new high school and gym, dedicated in 1957.
Construction continued with the building of St. Ann Convent which was occupied in 1967 and which provided 16 bedrooms. A feature of the new convent was a separate chapel connected to the main building by a breezeway and accessible from the outside. This brought all the sisters under one roof, after they had lived in various places for some years.
Eventually as the number of sisters decreased and enrollment continued to rise, the convent was remodeled to accommodate several classrooms, with the sisters' quarters reduced to one end of the first floor and several bedrooms on second floor. In 2009 when the last two sisters retired to Dubuque, two of the lay teachers rented rooms in the building.
Sister Angela Feeney, who ministered in the high school from 1973-1980, said of her time there, "Although I enjoyed all the classes I was assigned to teach, my greatest satisfaction came from the enthusiasm that so many of the students had for learning how to do public speaking." Students would come before and after school, as well as in the evenings, to perfect their speaking skills.
Sister Josita Zieser, one of the last of 102 Presentation Sisters to minister in Storm Lake, retired in 2009. She taught full time for 10 years, then part time in art and third grade, and transferred to the position of parish administrative assistant for her last few years. She commented, "I loved teaching high school art; it was a class they wanted to be in … I've thoroughly enjoyed my 19 years here. It was one of the best places I've been."
Sister Donna Determan, who also retired in 2009, remarked, "I know a lot of the alumni that I taught the Sacraments to are now the parents of children I've taught. It's just a thrill and exciting to see them grow up and have families … Storm Lake is like my second home." She had spent 25 years at St. Mary's.
Published in 2010
Almost a year after the departure of Presentation sisters from the school and parish of St. Mary in Storm Lake, Iowa, Presentation sisters were welcomed back for a special dedication. On May 10, 2010, the new playground equipment at St. Mary was dedicated in honor of the Dubuque Presentation sisters who served as teachers at the school from 1950-2009. United for Kids, Buena Vista County Foundation and individual donors provided funds for the playground renovation. Also dedicated was a nun carving created and donated by Storm Lake's wood carver Jeff Klatt. The carving stands in the Presentation Playground, watching the children as they play.
In June 2009, both Sisters Donna Determan and Josita Zieser retired from St. Mary making it the first time in 97 years that no religious sister was teaching at St. Mary School and no sisters living in the St. Anne Convent. Sister Donna retired from teaching and Sister Josita from the parish administrative office. They are the last of a long line of Presentation sisters to serve St. Mary Parish and School since 1950. Religious sisters have been a strong presence in St. Mary School since the doors opened in 1912 when it was staffed by the Sisters of St. Francis of Clinton, Iowa. The Franciscans traded residences with the Presentation sisters in 1950, who were in Danbury, Iowa, at the time. Since then, the Presentation sisters have diligently taught and formed thousands of students since they arrived.
"We are grateful for the long and faithful service of the Sisters of the Presentation to St. Mary Parish and School. They touched many lives both by their direct involvement with our children in the classroom, and by their witness as women committed to the religious life. St. Mary's will be less without them," said St. Mary Pastor Father Bruce Lawler of the departure of the sisters.
St. Mary School Principal Bev Mach also expressed sadness at the prospect of no longer having the Presentation sisters at St. Mary's. "It is with a heavy heart that we say good bye to our beloved Sisters of the Presentation. Their loving presence and giving spirit is a true testament to their deep faith and love of the Lord. Our roots run deep at St. Mary's and the Presentation sisters have nurtured those roots for many years."
A total of 102 Presentation sisters ministered at St. Mary School and Parish over 59 years.
Right photo: Left to right: Sisters Catherine Wingert, Donna Determan and Dolores Zieser, who represented her sister, Sister Josita Zieser, came back to St. Mary's this spring for the dedication of Presentation Playground.